We were asked to produce the Oldham College time-lapse by construction specialists Willmott Dixon. Oldham College continues it's expansion with Block C, a new three-storey college extension that specialises in health, beauty, travel and tourism.
The 2,400 square metre building is the final stage of a three phase upgrade for college accommodation, delivered while the rest of the college remained operational.
Providing a regional training hub for the Hair & Beauty sector, Block C houses its own commercial salon for the students to practice and learn their trade. There are also 17 new classrooms designated to Travel & Tourism, Sport & Uniformed Public Services learning; providing the region's best facilities for training in these important areas.
Completing Block C at the college was the final element of a major investment by the college in vocational education and part of a wider regeneration of Oldham town centre that also includes the extension of the Metrolink and new leisure facilities that the Willmott Dixon team have also built.
TimelapseManchester installed a long duration time-lapse camera on the site. The build team were able to view the images from anywhere, and Willmott Dixon also included a link to the latest photo on their website. At the end of the project we created the Oldham College time-lapse film that can be viewed below.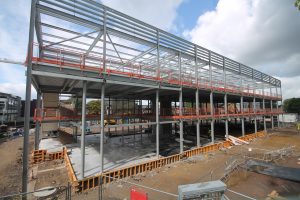 You can find out more about Oldham College Aspire Hair and Beauty here. Please contact us for a quote or a chat about your construction project.
Oldham College time-lapse