Oldham Leisure Centre Time-lapse
We were commissioned to produce the Oldham Leisure Centre time-lapse film. Oldham Leisure Centre will enable the town to hold regional and televised competitions with these enhanced facilities that put the town on the national sporting map. Facilities include:
A 25-metre eight-lane swimming pool of county-level competition standard
A separate learner pool
Spectator seating gallery to the main pool, providing 250 seats
150-competitor seats at pool sid
Eight-court sports hall including flexible seating for 250 spectators
80-station fitness studio
Separate changing facilities for dry sports and fitness suite
Four-rink indoor bowls hall
Improved landscaping and public realm works
Crucial to the success of this project was to provide a sports venue with the correct specifications to attract major regional competitions.
We used a long duration time-lapse camera to capture the construction phase of the project. Once the building was complete, we filmed the facilities inside. This footage was combined with the time-lapse to produce the film below.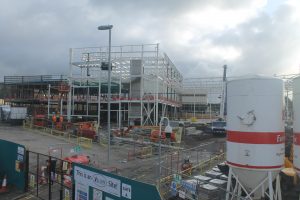 If you have a project that would benefit from time-lapse photography, please contact us for a quote.
Click here to visit the Oldham Leisure Centre website